SBF 347 STROKER ENGINE - 450 HP
SBF 347 STROKER ENGINE 450 HP
THIS IS A COMPLETE HYDRAULIC ROLLER MOTOR RUNS ON PREMIUM PUMP GAS, HAS FORGED MAHLE PISTON AND RING SET, EAGLE CRANKSHAFT AND RODS AND WHITE PERFORMANCE SBF 190/62CC ALUMINUM HEADS.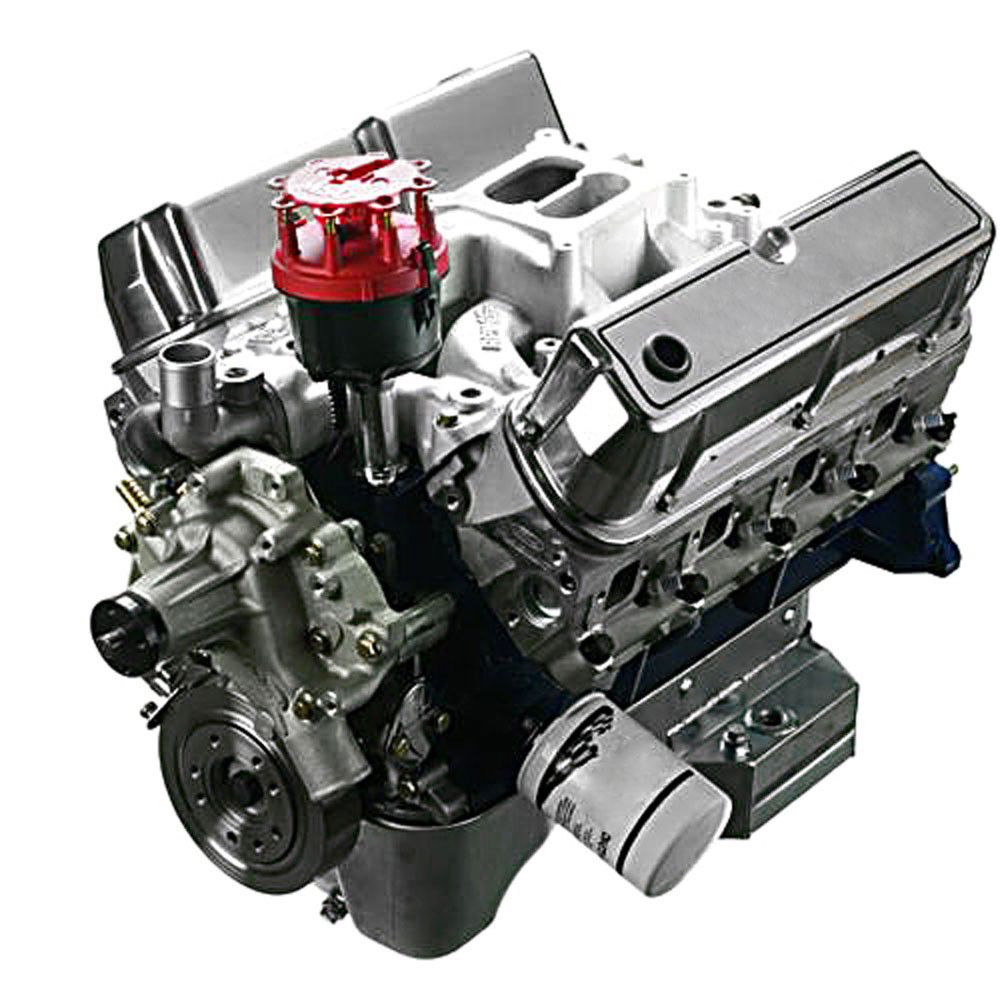 THIS ENGINE IS FULLY ASSEMBLED FROM OIL PAN AND TO INTAKE!
ENGINE HAS NOT BEEN TEST RUN OR DYNOED.
DYNO SERVICES ARE AVAILABLE AT ADDITIONAL CHARGE
YOU MAY ALSO SEE OUR OTHER ADDS FOR ENGINES WITH DYNO INCLUDED
PICTURES MAY SHOW OPTIONAL EQUIPMENT.
THE BUILD SHEET IS AS FOLLOWS:
THIS ENGINE HAS A FULLY MACHINED SBF WORLD PRODUCTS MAN O'WAR BLOCK, 1PC REAR MAIN SEAL, .030 OVER 4 BOLT MAIN BLOCK.
The engineering team at World Products collaborated with leading Ford racers and professional engine builders to develop the Man O'War replacement blocks for the popular 302 small block. They are available in two deck heights to ensure compatibility with all popular OEM and aftermarket cylinder head/intake manifold combinations. World Products' new Man O'War Ford blocks have been created utilizing contemporary CAD/CAM manufacturing technology for more precisely detailed blocks than were ever before possible through conventional foundry methods. And, they're made to QS-9000 quality standards, the highest in the industry.
This block will accept mechanical fuel pumps.
Main Journal Type: 302 mains
Engine Block Style: Aftermarket
Deck Height (in): 8.200 in.
Cylinder Bore as Shipped: 3.990 in.
Cylinder Bore Diameter: 4.125 in.
Engine Block Material: Cast iron
Engine Block Weight (lbs): 200 lbs.
Main Bolt Style: 4-bolt
Main Caps Included: Yes
Main Cap Material: Nodular iron
Main Cap Fasteners Included: Yes
Main Bearings Included: No
Rear Main Seal Style: 1-piece
Finished Cylinder Bores: No
Raised Cam Location: No
Cam Bearings Included: No
Freeze Plugs Included: No



Notes:

Nodular iron splayed main cap
_______________________________
WPM 190/62CC ALUMINUM HEADS
* Intake Valve: 2.020 - 2.050 O.D.
* Exhaust Valve: 1.600 - 1.625 O.D
WHITE PERFORMANCE AND MACHINE SMALL BLOCK FORD 289, 302, 351 WINDSOR ASSEMBLED ALUMINUM HEADS. 62cc CHAMBER, 190cc RUNNER AND SET UP FOR A HYDRAULIC ROLLER/MECHANICAL FLAT TAPPET CAM.
__________________________________
COMP CAMS CAM AND LIFTER KIT

FILE PHOTO. ITEM PICTURED IS A REPRESENTATION, ACTUAL PART MAY VARY.

COMP CAMS HYDRAULIC ROLLER CAMSHAFT w/HOWARDS TIE BAR LIFTERS.
__________________________________
EAGLE CRANKSHAFT AND EAGLE RODS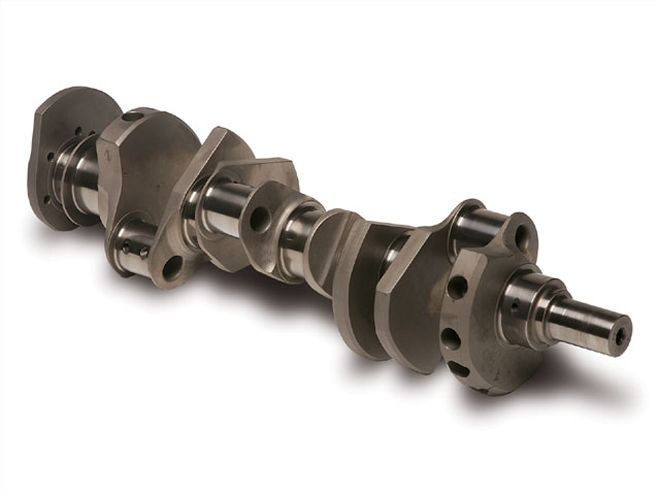 These cast steel crankshafts from Eagle Specialty Products are great for high performance applications. They feature non-twist forging, go through a multi-stage heat-treatment process, and are stress-relieved and shot-peened. These cranks are X-rayed, magnafluxed, and sonic-tested, so you know you're getting a top-quality piece.
5.400 H-BEAM EAGLE RODS
These rods are x-rayed and and ultrasonically tested with all surfaces shot peened and and stress relieved. Perfect for SB engines producing up to 700hp, and BB engines up to 850hp.
Set of 8
4340 Aircraft Qualitychromoly steel
Length: 5.400"
DIMENSIONS: 9.000 x 5.000 x 6.500
__________________________________
MAHLE FORGED PISTONS AND RING SET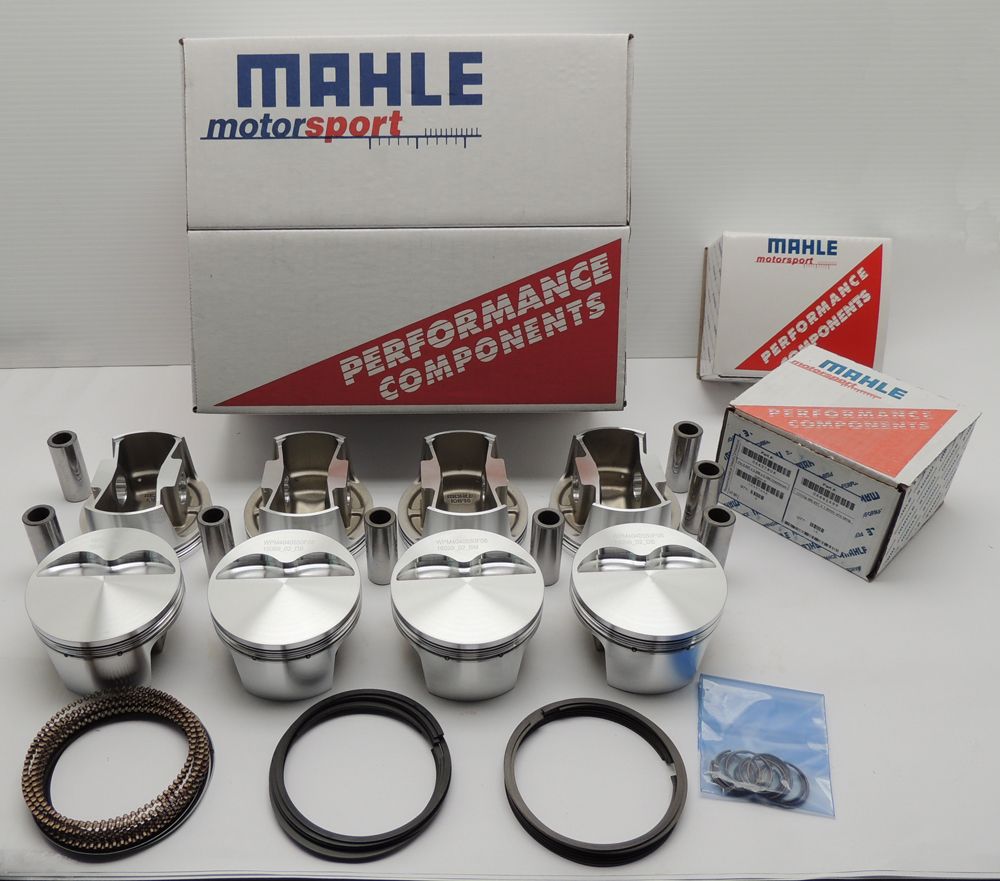 Forged 4032 Aluminum Alloy
Bore: 4.030''
Pin Diameter: .927''
5cc FLAT TOP
Precision Ring Grooves for Included 1.5, 1.5, 3.0mm Rings
MAHLE Motorsports North America established in 2000 has positioned itself as a leading supplier of forged racing pistons and rings. Widely recognized as the technology leader amongst race teams in most every top race series in North America and abroad, winning races and championships around the world, MAHLE Motorsports North America brings cutting edge technology to sportsman and professional racers alike with the flexibility and foresight to meet a wide range of customer needs which has the discerning racer relying on MAHLE to get them to the winner's circle.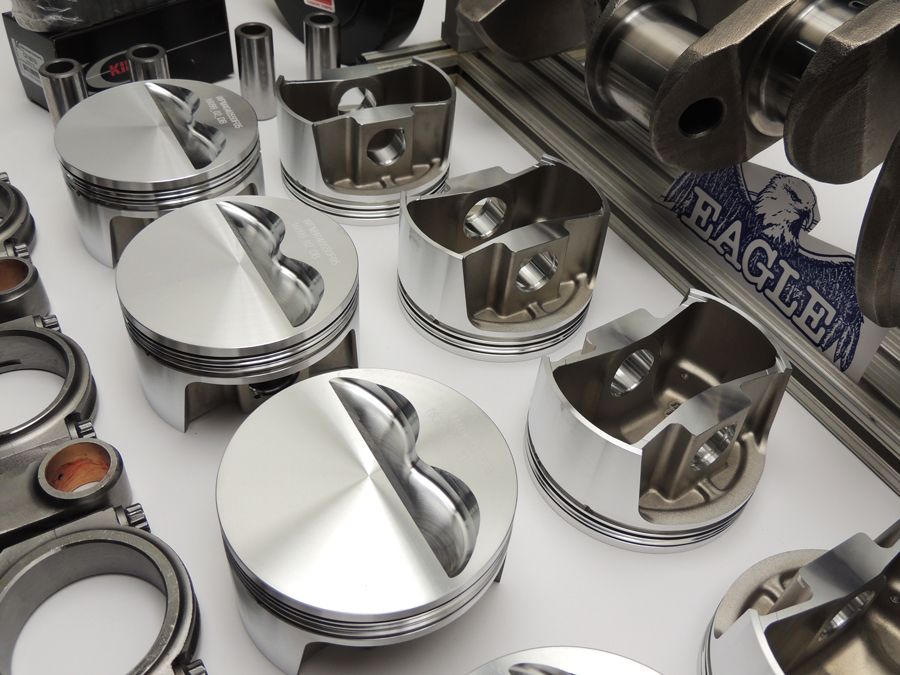 _____________________________________________________
STAINLESS STEEL ROCKER ARMS
Rocker Arm Mounting Style: Stud Mounted
Rocker Arm Ratio: 1.60
Rocker Arm Style: High Performance
Stud Size: 7/16 in.
Shims Included: N/A
Self-Aligning: No
Rocker Arm Nut Style: Posi Lock
Maximum Spring Diameter (in): 1.600
Rocker Arm Material: Stainless steel
Rocker Arm Finish: Natural
These rockers are the best deal on the market for your high performance and racing application. They are assembled with the best components to handle high lift and high RPM applications.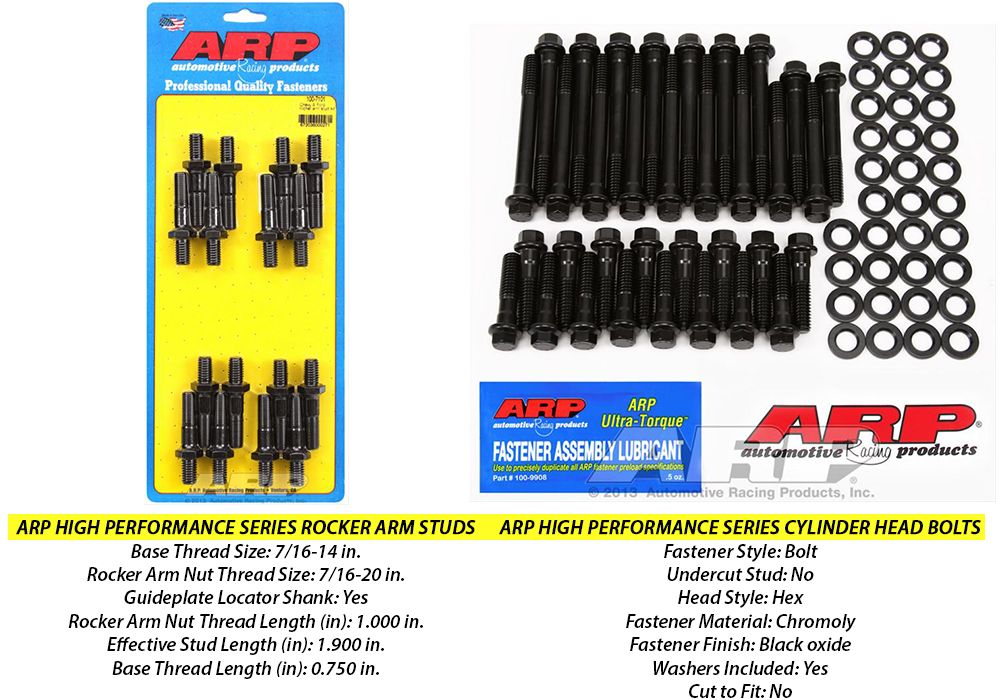 _____________________________________________________
MELLINGS M-68HV HIGH VOLUME OIL PUMP
Melling high-volume oil pumps give you an additional 20 to 25 percent of much-needed oil volume for your performance application. For those of you who need added pressure, many pumps are supplied with a high-pressure spring where noted. The pumps are built using a proprietary casting process, which yields maximum performance and reliability. Every Melling oil pump is completely pressure-tested, including idle and bypass pressure, before it leaves the factory.
Oil Pump Style: Wet sump
Oil Pump Volume: High-volume
Oil Pump Pressure: High-pressure
High-Pressure Oil Pump Spring Included: No
Pickup Included: No
Hardened Driveshaft Recommended: Yes
Oil Pump Driveshaft Included: Yes
External Oil Pump Pulley Included: No
External Oil Pump Belt Included: No
External Oil Pump Mounting Brackets Included: No
Hardware Included: No
Gaskets Included: Yes
Notes: Approximately 25 percent over stock volume.


_____________________________________________________
CLOYES TRUE ROLLER TIMING SET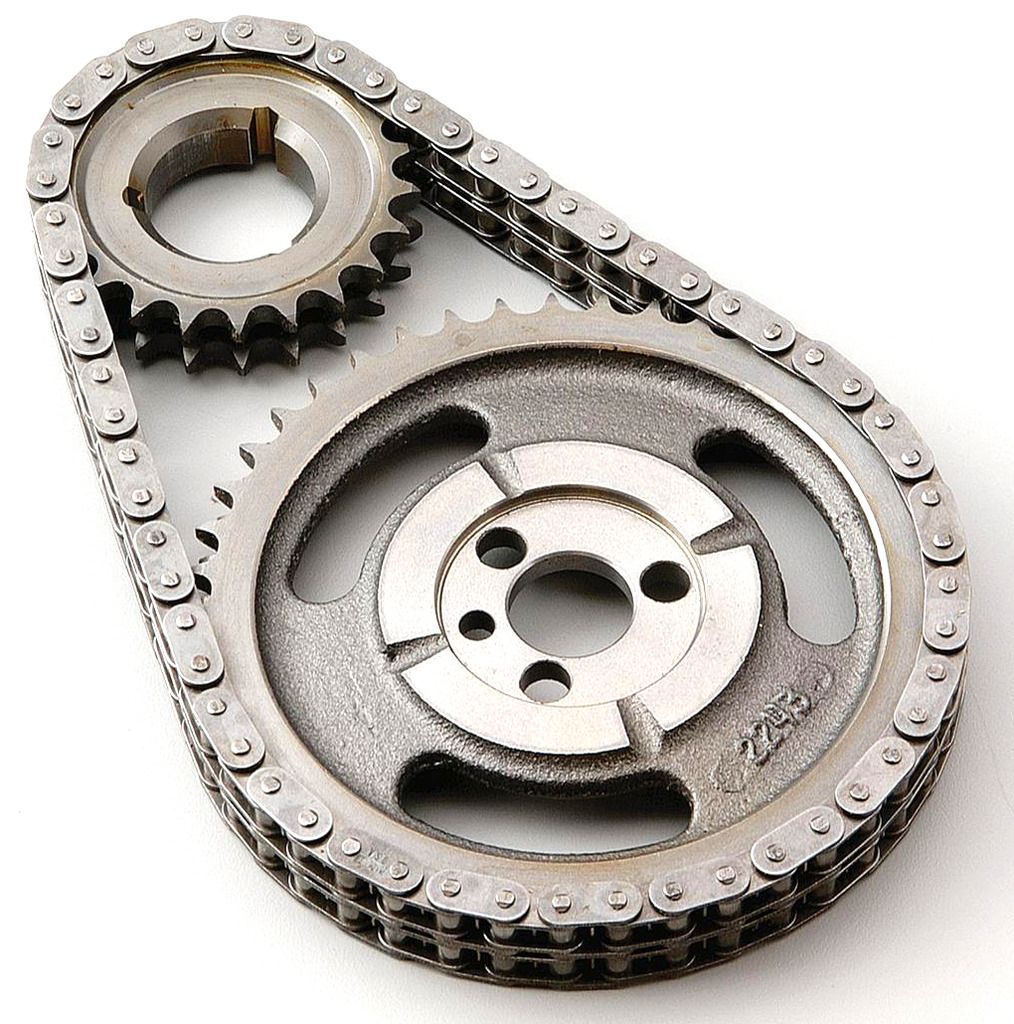 Timing Chain Style: Double roller
Maximum Advance/Retard at Camshaft: 2 degree
Maximum Advance/Retard at Crankshaft: 4 degree
Thrust Bearing Included: No
Offset Bushings Included: No
Gaskets Included: No
Bolts/Studs Included: No
Cam Sprocket Material: Iron
Crank Sprocket Material: Billet steel

4 degrees of crankshaft advance/retard reflects 2 degrees of camshaft advance/retard. Not for factory roller applications.
Cloyes street true roller timing sets are aimed at the value-driven racer. They have precision-machined, cast iron cam sprockets and induction-hardened, billet steel crank sprockets. The crank sprockets have three keyways for timing adjustment--4 degrees retarded, 4 degrees advanced, and normal. The chains are rugged, double-row types with oversized 0.250 in. rollers that deliver long life and reliability.
_____________________________________________________
EDELBROCK PERFORMER RPM AIR-GAP DUAL PLANE ALUMINUM INTAKE MANIFOLD
Intake Section Included: Complete
Engine Block Style: Stock/OEM standard deck
Carburetor Quantity: One
Intake Style: Dual plane
Basic Operating RPM Range: 3,000-7,500
Intake Manifold Height: 6.060 in.
Intake Finish: Natural
Intake Material: Aluminum
EGR: No
_____________________________________________________
FABRICATED ALUMINUM VALVE COVERS
Ford small block fabricated aluminum racing valve covers fit Ford 289-302-351W & 5.0L small block engines. They are made of very high grade billet 6061 T5 aluminum and polished to a near mirror finish. Many similar fabricated valve covers on the market have billet rail only and brushed or anodized finish.
These valve covers are baffled and will clear most popular rocker combinations. There is one breather hole in each valve cover. Height: 3-3/4".

Baffled:

Yes


Breathers Included:

No


Gaskets Included:

No


Grommets Included:

No


Valve Cover Hole Style:

1.25" Push-In Type


Mounting Hardware Included:

No


Quantity:

Sold as a Pair


Valve Cover Finish:

Polished


Valve Cover Height:

Tall (3-3/4")


Valve Cover Material:

Fabricated Billet 6061 T5 Aluminum


Valve Cover Mounting Style:

Perimeter Bolt


Valve Cover Top Style:

Smooth
_____________________________________________________
ADDITIONAL PARTS INCLUDED IN THIS PACKAGE THAT ARE NOT PICTURED ARE:
HEI DISTRIBUTOR AND PLUG WIRES
CHROME 3HP HI-TORQUE MINI STARTER
CHAMPION SPARK PLUGS
FREIGHT IS CALCULATED BASED ON WEIGHT, ZIP CODE AND IF SHIPPED TO
BUSINESS OR RESIDENCE.
ALL OF OUR ENGINES ARE SHIPPED IN A FULLY ENCLOSED CRATE (NOT SHRINK WRAPPED ON A PALLET) FOR THE ADDED PROTECTION OF YOUR PURCHASE.
We have been in business for over 30 years building some of the fastest race engines in the southeast with the best parts around. We are excited to now offer these parts to you at affordable prices. Our machinists are the best in the business and our sales staff is friendly and knowledgeable. Please give us a call with any questions about our items, we will be happy to talk to you about your project:
423-288-3881