SBC 383 CHEVY -16cc MAHLE DISH TOP PISTONS 4.030" BORE
SBC 383 CHEVY -16cc DISH TOP MAHLE PISTONS 4.030" BORE

MAHLE Motorsports North America established in 2000 has positioned itself as a leading supplier of forged racing pistons and rings. Widely recognized as the technology leader amongst race teams in most every top race series in North America and abroad, winning races and championships around the world, MAHLE Motorsports North America brings cutting edge technology to sportsman and professional racers alike with the flexibility and foresight to meet a wide range of customer needs which has the discerning racer relying on MAHLE to get them to the winner's circle.

Nothing supports the MAHLE Group's technology leadership as strongly as our achievements supplying the motorsports/racing industry including Formula 1 seasons with 16 out of 18 race wins supporting six of the ten teams, nearly two decades of straight wins at Le Mans, championships in all three top levels of NASCAR® and he majority engine supplier to the Indy Car Series.
However, product development for race engines results in more than just sporting achievements. It is often the top technology used by MAHLE in today's motorsports products that end up in tomorrow's production automotive models. Transversely, MAHLE's involvement in a wide array of OE production programs that include extensive R&D testing covering many aspects other than peak power and strength can provide technology from a different point of view that can be incorporated into motorsports products. A 24hr Grand Prix race is a severe test stand as you can imagine as is an industrial engine producing 1500+ cylinder pressures 24 hours a day 7 days a week for months on end. In providing products that succeed in any environment, allows MAHLE to master the everyday requirements from public roads to the most grueling motorsports competitions.
The Power Pak pistons are predominately made from 4032 aluminum alloy to allow for tighter cylinder to wall clearances, and improved temperature stability. Some applications require 2618 alloy including the Power Pak Plus category. Each kit is complete with a set of high performance rings, containing a low drag 1.5mm, 1.5mm, 3.0mm set.
MAHLE PISTON AND RING SET
MAHLE Power Pak Metric Ring Package is a perfect replacement for the stock or medium performance build up. This is the same ring pack used in Circle Track, Dirt Track and High-Horsepower racing engines. Featuring moly ductile iron top rings, cast iron reverse taper second rings and 3 piece oil control rings. MAHLE ring sets feature standard ring end gaps for easy installation. Ring Specifications: Pre fit 1.5mm, 1.5mm, 3mm oil ring.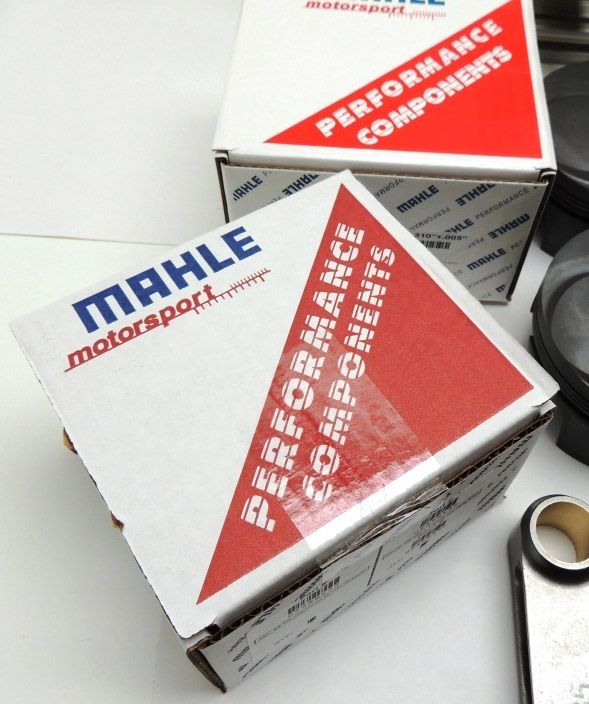 Forged 4032 Aluminum Alloy
Bore: 4.030''
Pin Diameter: .927''
-16cc DISH TOP
Precision Ring Grooves for Included 1.5, 1.5, 3.0mm Rings
MAHLE #WPM4030425I16




| Item Code | WPM-4030425I16 |
| --- | --- |
| Vendor Name | MAHLE |
| Product Type | Pistons |
| Product Model | PowerPak Series |
| Engine Displacement (cu.in.) | 383 |
| Engine Family | CHEVROLET - Small Block V8 |
| Material | 4032 Forged Aluminum |
| Base Bore (in) | 4.030 |
| Stroke (in) | 3.750 |
| Rod Length (in) | 5.700 |
| Compression Height (in) | 1.425 |
| Top Type | Dish Top |
| Net Head Volume (cc) | -16 |
| Weight Without Pin (g) | 430 |
| Wrist Pin Diameter (in) | 0.927 |
| Wrist Pin Style | Floating |
| Wrist Pin Weight (g) | 118g |
| Top Ring Groove Size | 1.5 mm |
| Second Ring Groove Size | 1.5 mm |
| Oil Ring Groove Size | 3.0 mm |
| Quantity | Sold in sets of 8. |
To keep our prices low, we will ship this item the best way possible. We ship with FedEx, UPS, and USPS, and will choose the carrier that has the best rate and service to your area. Your tracking number will tell you how your item will be shipped.
**NOTE: Shipping prices listed are for the contiguous 48 US states only. There may be additional postage required to ship items to Alaska, Hawaii, Puerto Rico and other US territories. If additional postage is required, we will contact you through Email messages to let you know. If you live outside of the contiguous US, please request a shipping quote prior to purchase to avoid any delays in shipping your item.
We have been in business for over 30 years building some of the fastest race engines in the southeast with the best parts around. We are excited to now offer these parts to you at affordable prices. Our machinists are the best in the business and our sales staff is friendly and knowledgeable. Please give us a call with any questions about our items, we will be happy to talk to you about your project:
423-288-3881