CHEVY V8 READY TO RUN DISTRIBUTOR COIL & WIRES KIT
Item #: RR-01R+30BK+135RED
CHEVY V8 READY TO RUN DISTRIBUTOR
RR-01R+30BK+135RED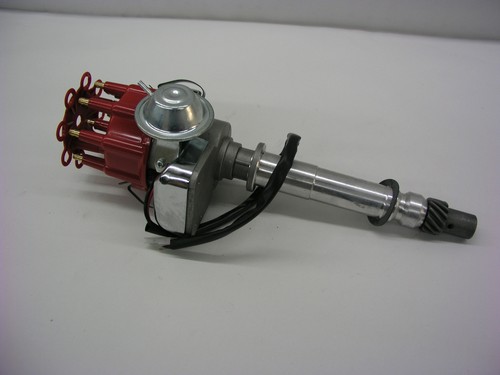 THESE "READY TO RUN" DISTRIBUTORS USE A SIMPLE 2 WIRE CONNECTION, THE RED WIRE
GOES TO THE POSITIVE (+) SIDE OF THE COIL, ALONG WITH THE 12V IGNITION SWITCH WIRE.
THE BLACK WIRE TO THE NEGATIVE (-) SIDE OF THE COIL. THIS DISTRIBUTOR CAN BE USED
WITH ANY 12V COIL THAT IS DESIGNED TO BE USED WITH ELECTRONIC IGNITION WITH COIL
RESISTANCE OF .5-1.0 OHMS.
Maintenance free magnetic pickup
Tuned for optimal performances for Chevy Small and Big Block V8
engines
E-Coil

-

Red

E-Core 70% more spark energy over stock

(Ballast resistor optional)
12V
SBC BBC MEGAFIRE 8.5mm PLUG WIRES FROM ENGINE
WORKS
OUR FAVORITE PLUG WIRES!!
THIS SET OF WIRES IS RED.
WE CHOOSE THESE WIRES FOR OUR ENGINES. THE
8.5mm SIZE WILL FIT IN ALMOST ALL WIRE LOOMS
AND LOOK GREAT ON ANY ENGINE.
THESE ARE A UNIVERSAL FIT WIRE, SO YOU WILL NEED
TO CUT THEM TO LENGTH AND CRIMP THE
DISTRIBUTOR ENDS ON TO THE WIRES. THE PLUG END
OF THE WIRE IS ALREADY FINISHED WITH A 135
DEGREE BOOT.
This kit includes 8 wires and a 23.5" plug wire. The
other wire lengths are: 26.5", 30.5", 31.5", 36", 36.5",
41", 41.5", 46"
HERE ARE SOME FEATURES OF THE MEGAFIRE WIRES:
• Super low 250 ohm per ft. resistance
• Pure silicone heavy duty boots
• 100% Silicone 8.5mm outer jacket, heat rated to 575° F.
• Kevlar Center Core for strength.
• Fiberglass braid reinforcement
This item will ship with the best shipping company covering your area. We will choose this carrier based on cost and reliability. It is our priority to make sure you get what you need.
**NOTE: Shipping prices listed are for the contiguous 48 US states only. There may be additional postage required to ship items to Alaska, Hawaii, Puerto Rico and other US territories. If additional postage is required, we will contact you through email messages to let you know. If you live outside of the contiguous US, please request a shipping quote prior to purchase to avoid any delays in shipping your item.

We have been in business for over 30 years building some of the fastest race engines in the southeast with the best parts around and we are excited to now offer these parts to you at affordable prices. Our machinists are the best in the business and our sales staff is friendly and knowledgeable. Please give us a call with any questions about our items, we will be happy to talk to you about your project:





423-288-3881.