CHEVY BBC P SERIES TRI METAL CLEVITE ROD BEARINGS .010 SET OF 8
Click To Enlarge
CHEVY BBC P SERIES
TRI METAL CLEVITE
ROD BEARINGS SET OF 8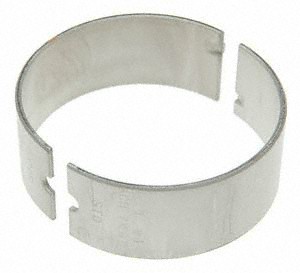 P-Series rod bearings are the oldest members of the Clevite 77 performance-bearing family. They're intended for high-revving engines, especially those where the high rpm cause the rod bores to narrow. To compensate for this distortion, they have higher eccentricity and a high crush factor. P-Series bearings are built on hardened-steel backings with extra-thin overlays, and their oil grooves extend all the way around both halves for better oiling. Lower sections have dowel holes for use with aluminum rods.
In most cases Clevite Tri-Metal 77 Bearings are an upgrade over a stock bearing, or three times better.

It takes Three Layers to be Number One, and Clevite 77 Tri-Metal Bearings are it !

Engineering quality engine bearings involves a number of interdependent factors. Here is how Clevite 77's Tri-Metal cast copper lead material compares to bi-metal bearings on the most important of these factors:

Seizure Resistance:
Tri-Metal bearings have significantly greater seizure resistance than bi-metal bearings, by as much as 40%.
Load Capacity:
Tri-Metal bearings can withstand much higher loads for longer periods of time as compared to bi-metal bearings, over 60% higher loads.
Embeddability & Conformability:
The overlay on a Tri-Metal bearing offers a far more forgiving surface than bi-metal bearings. This feature may not be as critical during OE assembly as it once was, but it does offer additional protection that can be extremely beneficial in maintaining your engine.
Durability:
Clevite 77's Tri-Metal bearings not only exceed light vehicle OE durability requirements of 150,000 miles, they also exceed heavy vehicle OE durability requirements of 300,000 miles.
Tolerances:
Because the surface layer of a Tri-Metal bearings adds an additional manufacturing step, Clevite regularly holds wall sizes to within .0005" as compared to a bi-metal that can be held to within .0003".

Not all Tri-metal engine bearings are the same - so if you want the strongest, highest quality engine bearings, ask for the original Clevite 77 Tri-Metal Engine Bearings.


Material:

TM-77

Min. Std. Shaft Diameter:

2.0990"




53.3146mm

Max. Std. Shaft Diameter:

2.1000"




53.3400mm

Min. Vert. Oil Clearance:

0.0012"




0.0305mm

Max. Vert. Oil Clearance:

0.0037"




0.0940mm

Max. Wall:

0.0620"




1.5748mm

Min. Brg. O.D. or Housing Bore:

2.2247"




56.5074mm

Max. Brg. O.D. or Housing Bore:

2.2252"




56.5201mm

Max. Length:

0.8420"




21.3868mm
When installing any bearing
DO NOT ATTEMPT TO POLISH THE BEARING RUNNING SURFACE WITH ANY TYPE OF ABRASIVE PAD OR PAPER.
Bearing overlay layers are extremely soft and thin, typically .0005" on high performance parts.
These thin layers can easily be damaged or removed by abrasive media. Because the overlay layer is electroplated,
it may exhibit microscopic plating nodules that make it feel slightly rough.
The nodules are the same material as the rest of the plated layer and will quickly be flattened by the shaft.
To keep our prices low, we will ship this item the best way possible. We ship with UPS and USPS, and will choose the carrier that has the best rate and service to your area. Your tracking number will tell you how your item will be shipped.
**NOTE: shipping prices listed are for the contiguous 48 US states only. There may be additional postage required to ship items to Alaska, Hawaii, Puerto Rico and other US territories. If additional postage is required, we will contact you through e-mail to let you know. If you live outside of the contiguous US, please request a shipping quote prior to purchase to avoid any delays in shipping your item.
We have been in business for over 30 years building some of the fastest race engines in the southeast with the best parts around and we are excited to now offer these parts to you at affordable prices. Our machinists are the best in the business and our sales staff is friendly and knowledgeable. Please give us a call with any questions about our items, we will be happy to talk to you about your project:
423-288-3881