BBC PROFILER SNIPER II INTAKE MANIFOLD
Click To Enlarge
PRO-FILER SNIPER II BBC INTAKE MANIFOLD
The Ultimate in BB Conventional Port Intakes
#WPM-2118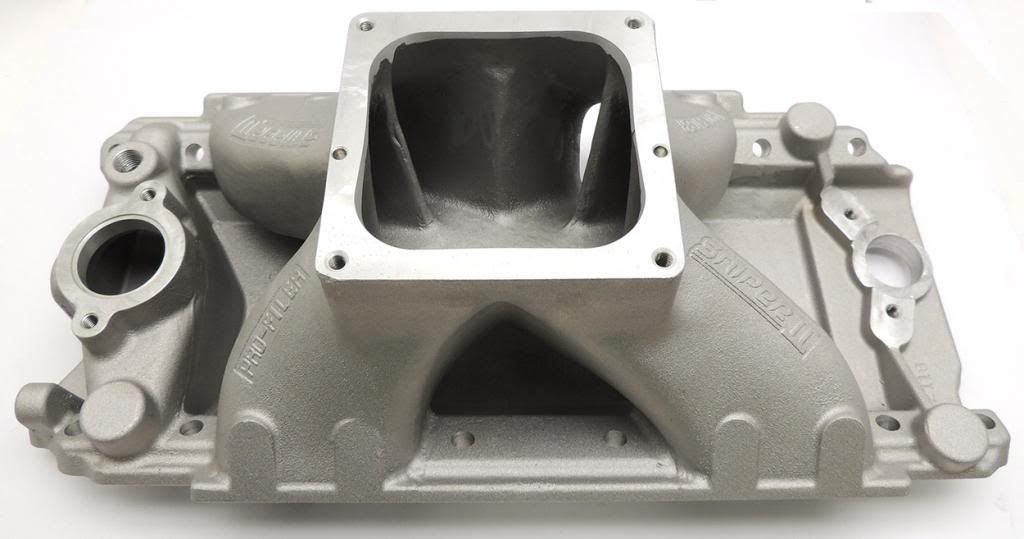 206 Series SNIPER

II

Intake Manifold
SPECIFICATIONS/FEATURES

Material

:

Aerospace Specification, Aluminum Alloy (Primary Virgin Ingot)
Deck Height

:

9.8" Short Deck or 10.2" Tall Deck
Overall Height

:

(9.8 version) - 7.4" , (10.2 version) - 7.57" China Rail to Carb Flange
Runner Location

:

Fits majority of BBC Stockport Cylinder Heads - Regardless of Valve Angle



FEATURES
1" cast spacer

Cast bosses for injectors

Optimized cross sectional area

Runners are precision cast and ported to assure proper air flow

Available for 9.8 or 10.2 deck heights
The SNIPER BBC Intake Manifold Series is designed with the perfect runner to plenum volume to maximize the power and acceleration curves of your engine.
The SNIPER Series features cast injection bosses, 4500 series carburetor flange, four corner water bosses and your choice of oval or rectangle port opening.
For a combination that is unbeatable, pair the SNIPER Cylinder Head with a SNIPER Manifold and watch your competition be blown away!
Important
:

Tall deck models require either a slip collar distributor or a distributor designed for a Tall Deck Block. There is not enough material in the intake floor to safely machine it to use a short deck distributor.
To keep our prices low, we will ship this item the best way possible. We ship with UPS and USPS, and will choose the carrier that has the best rate and service to your area. Your tracking number will tell you how your item will be shipped.
**NOTE: Shipping prices listed are for the contiguous 48 US states only. There may be additional postage required to ship items to Alaska, Hawaii, Puerto Rico and other US territories. If additional postage is required, we will contact you through e-mail to let you know. If you live outside of the contiguous US, please request a shipping quote prior to purchase to avoid any delays in shipping your item.
We have been in business for over 30 years building some of the fastest race engines in the southeast with the best parts around. We are excited to now offer these parts to you at affordable prices. Our machinists are the best in the business and our sales staff is friendly and knowledgeable. Please give us a call with any questions about our items, we will be happy to talk to you about your project:
423-288-3881