ACCEL YELLOW 8mm Spark Plug Wires Ford 429 & 460
Click To Enlarge
Spark Plug Wires, Super Stock, RFI Suppression, 8mm, Yellow, Stock Boots, Ford, V8, Set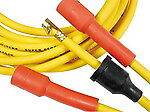 Distributor Terminal Ends:
Female/Socket
Distributor Boot Color:
Black
Distributor Boot Material:
Silicone
Spark Plug Boot Ends:
Stock
Spark Plug Boot Color:
Orange
Spark Plug Boot Material:
Silicone
Conductor Style:
Spiral core
ACCEL's SuperStock 4000 series spark plug wire sets are designed to upgrade an OE ignition system for high-spark delivery levels for street driven applications. The 450 degree F rated silicone jacket is extruded over a tightly woven, rugged fiberglass braid. The braid is applied over high dielectric strength EPDM inner insulation for ignition wire performance that exceeds SAE specifications.

Features include:
* 8mm yellow, red, black, and blue silicone jackets
* Street-driven applications
* Orange and color-matched blue, red, and black silicone spark plug boots
* Pre and post-HEI vehicles
* Custom-fit, universal, and import
To keep our prices low, we will ship this item the best way possible. We ship with UPS and USPS, and will choose the carrier that has the best rate and service to your area. Your tracking number will tell you how your item will be shipped.
**NOTE: Shipping prices listed are for the contiguous 48 US states only. There may be additional postage required to ship items to Alaska, Hawaii, Puerto Rico and other US territories. If additional postage is required, we will contact you through E-mail to let you know. If you live outside of the contiguous US, please request a shipping quote prior to purchase to avoid any delays in shipping your item.
We have been in business for over 30 years building some of the fastest race engines in the southeast with the best parts around. We are excited to now offer these parts to you at affordable prices. Our machinists are the best in the business and our sales staff is friendly and knowledgeable. Please give us a call with any questions about our items, we will be happy to talk to you about your project:
423-288-3881